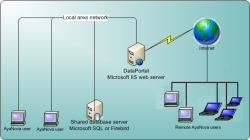 Install your Data Portal web application to a Windows computer running IIS (Microsoft Internet Information Server) 5 or higher within your own local area network.
This Windows computer where your Data Portal web application is installed to, could be the same computer where your AyaNova database is networked on, or could be a separate computer within your network as per the example configuration image above.
IIS is used as a "bridge" transferring data called from your AyaNova networked database to display in your desktop AyaNova program user interface.