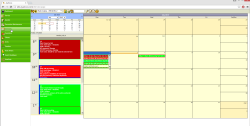 Needs no installation by your web browser users. Just enter your WBI URL and log in with your AyaNova login name and password on your desktop or laptop - in your office and/or away from your office!
Easily check and update your schedule while away from the main office.
Create new and edit existing service workorders, quotes, clients, units, schedule markers and more.
View and edit scheduled items, service requirements, parts, labor, tasks, travel, misc expenses, outside service data and custom fields.
Obtain the customer's signature while on-site.
Restrict or assign feature access based on security group rights.
Brand your WBI login page for your clients and your staff by placing your own company logo on your WBI login page.
Reports available in the full AyaNova program are also available via WBI - using WBI your field service staff can provide a service report while at the client's site for signatures and acceptance.