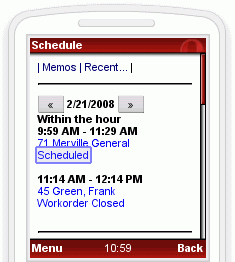 No installation by web browser users. Your technician (scheduleable resource) would just enter their MBI URL and log in with their AyaNova login name and password.
Use a regular internet browser (a minimum of IE 9.0+, FireFox 3.0+, Safari 3.0+, Chrome 3.0+, or Opera 10.0+) on any operating system or device.
Your technicians can easily check their schedule, expected start and stop times scheduled for, client information, and present status of that workorder.
View client contact information including address, email, and phone numbers, and notes.