From main grids in AyaNova you can view one or more records at a time, select to open a specific entry screen, and print reports based on the records that are displaying.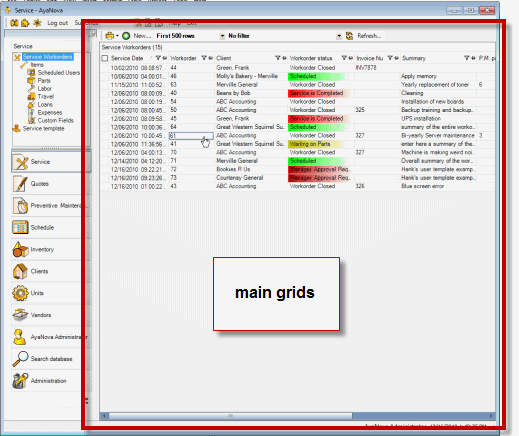 The screenshot above is of the Service Workorders grid which shows service workorder records - in this case, sorted by the Service Date column without any additional filter(s).
When you exit out of AyaNova, what you had set for your grid settings are saved for your username, for the next time you log in.
Customization of main grids:
•Move and set which columns the grid is sorted by moving the desired sort column to the left.
•Change sorting from ascending to descending or vice versa by selection of the sort icon on the sort column.
•Display or not display certain columns as needed
•Pin a column so that it always shows even if scrolling
•Filter what records show in the grid by filtering on one or more columns
•Save filters for quick selection at a later date to the Filter Drop List
•Set the maximum number of rows to display for speed