What if you do not want every possible column to show in the grid?
Right-click on any column heading, and uncheck the columns listed that you do not want to show.
When you exit out of the AyaNova program, AyaNova will "remember" the grid settings of any screens viewed including what columns you have set to display in a grid.
Setting what columns display in a grid is useful if the grid has a large number of columns and you don't want all of them to show so that you can easily view the data you do want to see.
•Place your mouse over any of the column headings and right-click to bring up the column selection screen.

•This will bring up that grids column display selection window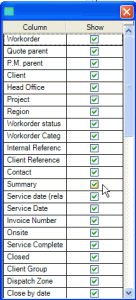 •Column labels with a checkmark will display, whereas column labels without a checkmark will not display in that grid
•This feature is also available for the Workorder Items grid in a service workorder

•If you right-click on a grids column headings, and nothing happens, that means that grid is not editable in what columns can show and not show.
Performance Note: Although the latest AyaNova has vastly improved performance returning records in grids, it is still recommended for full performance that if you do not use Banked Service to remove these columns from displaying if not needed in the Client, Head Office, and Service grids; and to remove the Banked Service and/or Meter Reading from displaying in the Units grid if not needed. This is irrelevant if you have a small number of units or clients.