The main grids in AyaNova have menu options available just overtop of the grid that are specific to that grid.

The screenshot below shows the grid menu options for the Scheduled Users grid as an example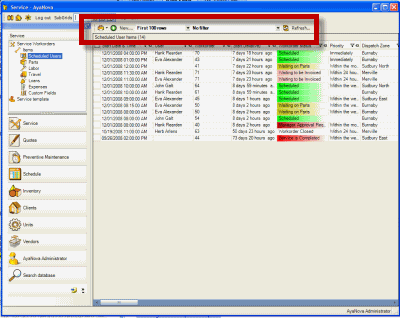 These include the Print selection, the New... selection to create a new grid object, the maximum number of records to display in the grid, the Filter Drop List, and the Refresh button.
Main Grid menu options:

Print
Selecting the Print icon menu option from a main grid allows selection of a report template to print the displaying data for that grid.
For example, if you were viewing the Service Workorders grid, and you had filtered to show only service workorders that are set to Service Completed, then only those workorders displaying in the grid would print their data on any report you select.
Do note you may or may not see the same reports shown in screenshots in this manual. Additional sample report templates can be downloaded from the AyaNova Support Forum https://forum.ayanova.com , or you may customize your own, and/or may contract a consultant to create specialty report templates.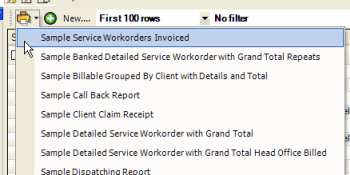 New summary report and New detailed report are selected to create new custom reports from scratch. The New summary report provides access to all fields displaying in the grid, whereas if a New detailed report is displayed, additional fields not displaying in the grid may also be available for selection in a custom report template.
See also:
Creating a new report template

New…
This menu option is to be selected to create a new object for the grid you are presently viewing.
For example:
To create a new service workorder, view the Service Workorders navigation pane grid and select the menu option New… which will begin the process of creating a new service workorder. Additional details in this manual's section "Service Workorders"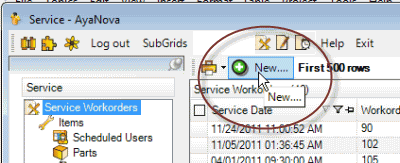 To create a new client, view the Clients navigation pane grid and select the menu option New… which will open an empty client entry screen. Additional details in the manuals section "Clients"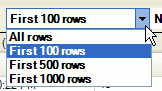 Maximum number of records to display
AyaNova will display the number of records based on what you had selected the last time you were logged into AyaNova.
You can of course change this to view more or less by default.
For example, if you want to see all records, regardless of the time it takes to display, then drop down and select All Rows – or if you want to see the first 500 that meet the sort and filter order, select First 500 rows – etc.
And the next time you log into AyaNova, all grids will also be set to that number of records to view by default.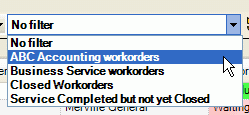 Filter Drop List
The Filter Drop List is where you can select to use no filter, or select a previously saved filter, or save a filter just created.
Save the filters you most likely use on a regular basis for future quick selection from the Filter Drop List instead of having to recreate the filter again.
See also:

Refresh...
This is to refresh the grid to display recently entered data. AyaNova will automatically refresh all main grids approximately every 5 minutes but use this if you want to refresh immediately.