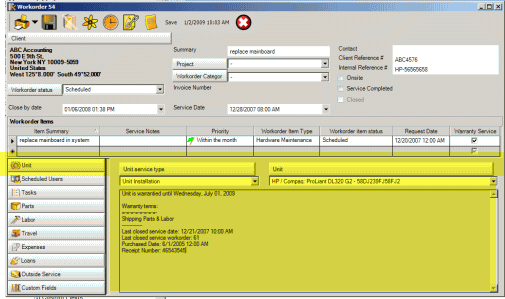 If you do not want the Unit subsection to show in the entry screen for users of a certain security group, just set the security group Object.WorkorderItemUnit to Forbidden
Fields of the Unit sub-screen:

•Identifies the unit to be serviced via this workorder item.
NOTE: Display format (whether Vendor - Model - Serial Number, whether just Serial Number etc) is based on the Unit display format set in Global Settings
•Only units "owned" by the client of this workorder display for selection so you can easily select
•Click on the Unit jump button to either edit the existing selected unit; or if no unit selected, create a new unit for this client

•Displays warranty information on the unit based from the Unit's entry screen

•Displays Last Closed Workorder number and the service date of that last Closed workorder

•Displays Purchased Date and Receipt Number for that purchase as set in the Unit's entry screen

•Identifies type of unit service
See also:
•Provides meter reading entry via the Workorder Items menu option if meter reading enabled for that unit

•Provides viewing of meter reading history via the Unit jump button if meter reading enabled for that unit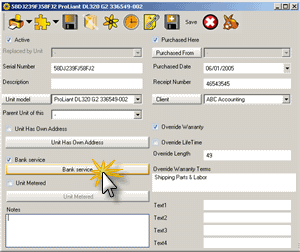 To be able to maintain a service history for each Unit, only one Unit is selectable per workorder item.
In this way, parts used in service of this Unit, the amount of labor, outside service required will all be maintained for this individual unit.
You can select multiple units in a service workorder by selecting each unit within a separate workorder item within that service workorder.