Global Settings is where the administrator would set default and global settings that affect all users of AyaNova, and all features of AyaNova when the user logs into the AyaNova program.
NOTE: In some cases, a specific client or specific user may have settings that override the Global Settings. If you have a situation where a client or user is not getting the same settings as others, check their entry screen.
Global Settings is accessed via the Administration navigation pane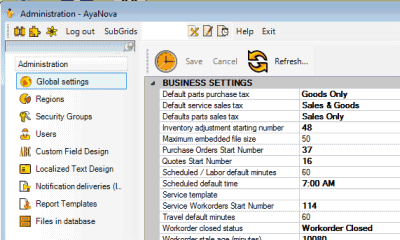 If you edit any of these settings, make sure all staff exit out of AyaNova until you have saved the new settings and exited AyaNova yourself.
Global Settings affect every user when they log into the AyaNova program.
Edited Global Settings won't be in effect for an AyaNova user until after that user exits out and logs back in.
If selecting such as default tax codes, and have recently entered in new Tax Codes, just select the Refresh

menu option to refresh the list of selectable options.
Global Settings include:
Workorder Item Summary Template tags
Security Group internal object: Object.Global
NOTE: Only if the user is of User Type Administrator User will this user be able to view the Global Settings grid
Forbidden: User of that security group can not access the Global Settings grid at all

Read Only: User if is of User Type Administrator User can view the Global Settings grid but can not edit

Read/Write or Read/Write/Delete: User if is of User Type Administrator User can access the Global Settings grid, view and edit