What's it for:
Unit Service Type is to identify the service pertaining specifically to the unit.
Similar to the Workorder Item Type column in the workorder item, however that is used to identify the type of service requested to the workorder item as a whole, the Unit Service Type field is an additional service type selection specific to the Unit. You can use one or the other or both.
For example, you may select Business Network Service as a Workorder Item Type in the workorder item grid, you may further identify that the Unit being selected is Warranty Service.
This is useful for filtering via the User Scheduled List and for reporting purposes to identify the types of service being performed.
Use of Unit Service Types is optional in AyaNova.
How to access the Unit Service Types subgrid:
•accessed from the SubGrids menu bar in the main navigation pane menu bar
•from the Unit Service Type jump button within the workorder Unit sub-screen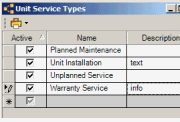 Where selected and used:
•unit Service Type is selected within the Service, Quote and PM workorder item sub-screen where you select the Unit
•displays as a column in the Items grid and below
•available in detailed reports from the Service Workorders, Quotes and Preventive Maintenance, as well as summary reports from the sub grids
Security Group internal object: Object.UnitServiceType
Forbidden: User of that security group can not access the Unit Service Types subgrid at all

Read Only: User can view the Unit Service Types subgrid but can not edit it.

Read/Write: User can access the Unit Service Types subgrid, view and edit
Read/Write/Delete: User can access the Unit Service Types subgrid, view and edit and delete