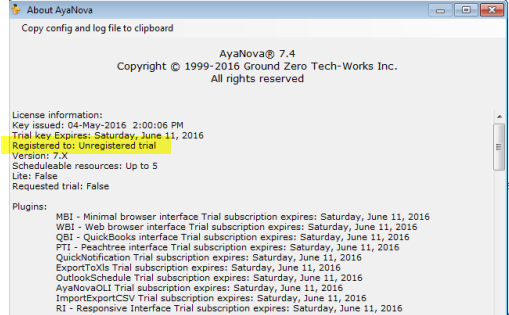 The unregistered evaluation trial AyaNova has the following restrictions with all other features enabled:
1.45 day trial
2.Restricted to 5 (five) scheduleable resources
•We encourage you to initially use the sample data in the database so you can test out all features of AyaNova without having to enter in data to start with.
•Although the sample data provided with the trial AyaNova is loosely geared towards that of a computer service organization, AyaNova has powerful features to help manage all aspects of service and repair for any organization that provides service of any kind including auto repair, plumbing, locksmith, alarm and security, HVAC, appliance repair, medical equipment repair, electronics repair, computer service, lawn care, property management, schools, municipal maintenance, and many more.
•Once you have familiarized yourself using the sample data, you can erase the database and start fresh with your own data.
•Once you have determined that AyaNova meets your needs, and you wish to use it for your service organization, purchase licenses for the number of your schedulable users.
•There is no need to download anything further as you will be sent activation instructions to activate the AyaNova database that you have already downloaded and installed.
•Refer to the menu option in the AyaNova program under Help for purchasing information. Or visit us at our website https://www.ayanova.com for contact information, for answers to common questions, and for our AyaNova Support Forum which in addition to providing support, includes topics and information posted by other AyaNova users.