There are two ways to try out AyaNova Lite
1. Use the Help menu option if have just installed the limited trial AyaNova
2. Or edit your config.txt file to point to the sample AyaNovaLite database
1. Use the Help menu option if have just installed the limited trial AyaNova
Once the limited trial AyaNova has been installed, you can toggle between trying out the full limited trial AyaNova to trying AyaNovaLite.
a. Run AyaNova
•Run AyaNova from the desktop icon

•Or run AyaNova from the Start -> All Programs -> AyaNova -> AyaNova menu option

b. If AyaNova is in the limited trial mode, select the menu option Help -> Trial: Switch to AyaNovaLite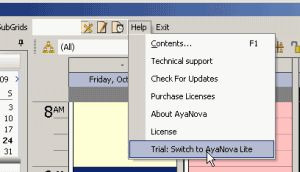 •AyaNova will exit
your config.txt file will automatically be edited to point to the AyaNovaLite database file AYANOVALITE.FDB .
c. Now run AyaNova again
d. AyaNova will load directly to running the AyaNovaLite version. Refer to the AyaNovaLite Help file for details on this lite version.
NOTE: there is no login screen for AyaNovaLite is for a single user on a single computer. If you require a networked version, you will want to run the full AyaNova.
NOTE: the menu option to toggle between AyaNova and AyaNovaLite only displays when AyaNova is in the limited trial mode or temporary licensed through a 30 day request from our website.
2. Or edit your config.txt file to point to the sample AyaNovaLite database
a. If you have installed AyaNova taking the defaults ("Default setup with sample database") than you can just edit your config.txt file so that it is pointing to the limited trial AyaNovaLite database instead of the AyaNova database
b. Open Windows Explorer and move to the AyaNova program folder C:\Program Files (x86)\Ground Zero Tech-Works Inc\AyaNova (or C:\Program Files\ if 32 bit)
c. Edit the config.txt file using NotePad
d. Edit the database name from AYANOVA.FDB to AYANOVALITE.FDB