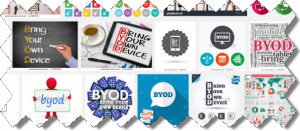 Company supplied devices or BYOD – which does your company do?
You know you want to increase efficiency and effectiveness of your field technician's service by providing remote access to the live data they need in new and existing workorders, quotes, preventive maintenance, inventory, part requests.
But you are not sure if your company should provide the devices staff will use, or if staff should provide their own devices (BYOD).
Back in 2014, Sumair Dutta wrote that the majority of service companies were requiring staff to use company supplied devices if used at all "60 percent of these organizations state that their IT department protocols prohibit the use of personal devices in field service tied to security and device management concerns"
Now in 2016, Scott Matteson outlines how BYOD has evolved and become even more of a requirement!
We encourage you to have a policy in place that covers what access you as the employer has to their device that is used, exit policies, and policies and protocols you and your staff will follow when accessing data. DigitalGuardian has put together a number of responses from data security experts to the question on how companies can keep data secure in a BYOD environment.
Check out examples online of BYOD policies that you can refer to when implementing yours by searching via Google – a couple examples:
If you would like to share your policies, and/or have any questions on these, please feel free to contact us here at AyaNova.