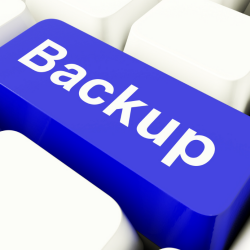 Is your important data actually being backed up?
" By failing to prepare, you are preparing to fail. " — Benjamin Franklin xx
A few years back, I was providing business computer support at a company's office, and I asked if they have a backup of all of their different data and when was the last time they confirmed was successfully backing up. They were "pretty sure" they did have a backup, even showed me their backup tape drive and the two tapes they swapped out.
But a quick 20 second check of their backup logs showed us there had been no backup in almost two years!
We implemented a backup routine that afternoon – automatic backup at end of day, automatic confirmation of success, 10 tape rotation, and recent backups to be taken offsite.
Three days later, on Saturday thankfully while no one in the office, a fire broke out (electrical issue). Everything in the office went up.
But no worries…..all data was able to be restored!
On Sunday I set up a whole new office for them in a new location, with their restored data. The only stress the lawyers and their staff had on Monday morning, 2 days after the fire, was figuring which parking spots were theirs at the new location!
It's not a question of if you will lose your data, but when.
At some time, you WILL lose your data. Save yourself the frustration and pain and agony. Set up a backup schedule and confirmation today!
We provide details and recommendations for what to backup and how, in our online Help documentation starting http://www.ayanova.com/AyaNova7webHelp/index.html?important_information_to_revie.htm
We would also encourage you to search online for what would work best for you and your organization.
Some examples:
Be sure that the backup software you use is compatible with the databases you use. For example, if your AyaNova is networked using SQL Express 2008 R2, you would need a backup method that is specifically SQL compatible with that version of SQL.
When was the last time you confirmed your data was successfully being backed up?