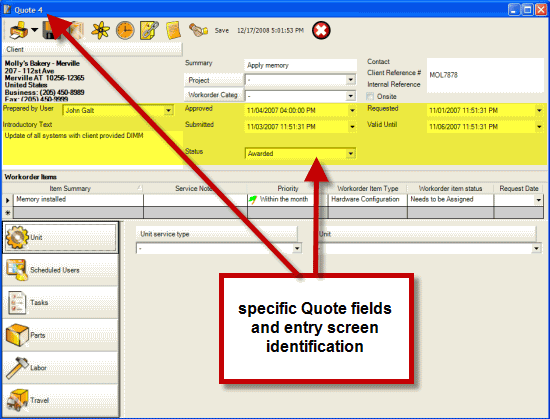 A quote itemizes costs and provides details on possible service for a client (and possible units of that client).
For example, your customers may wish to receive a quote for the services they may receive so that they can approve it before the service is actually provided.
Use AyaNova Quotes to:
•Create quotes in AyaNova for work that may be performed and parts that may be used
•Track creation of the quote, submission to the client of the quote and acceptance of the quote
•Generate a workorder from the quote without have to re-enter everything
•Maintain a history of your quotes as well as the actual service performed.
A quote can be used to generate a service work order via the Quote grid.
For this reason, you will note that the same fields and workorder items appear in a quote as in a service workorder as well as same type of sub-grids underneath when the Quotes grid is expanded on the navigation pane.