There are two ways to not have specific bars of the navigation pane display for a specific user:
1. Restrict access to the object in the Security Group that the user is a member of; if they have no rights to the object it won't display in the navigation pane.
2. Or the user themselves when logged in can use the Configure Buttons of the navigation pane to move the bar so that it no longer shows when you log in, and instead shows as a quick link image.
For example, you do not want the Vendors bar to show on the navigation pane for visual reasons:
•First use the steps to move the Vendors pane to the bottom of the order.
•Now select the Configure Buttons at the bottom of the Navigation Pane and select Show Fewer Buttons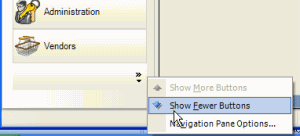 •It will move the bottom pane as an icon only to the very bottom. To open Vendors, just select it.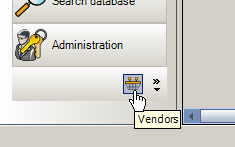 These settings will display the next time you log in as AyaNova maintains this information within its database for you as a user.