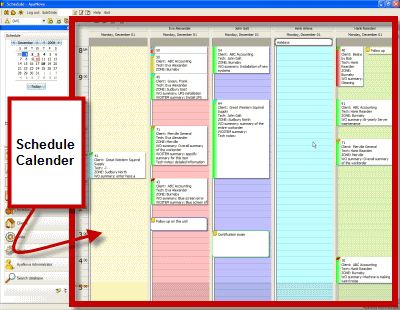 This is the main calendar in the Schedule screen from which you can view information.
•The Schedule screen can display two different items for schedulable users - Schedule Markers , Follow Ups and scheduled Workorder Items
•You can place your mouse over the item on the Schedule calendar to pop up a tip window providing more information on the scheduled workorder item.
•You can edit what displays and does not display in this popup window by editing the Workorder Item Summary Template tag settings in the Administration Global Settings.
•Schedulable users are displayed by default in alphabetical order by their Last Name. Whether the name includes their first name, last name, initials and/or region depends on what you have set for the User Display Format in your Global Settings
•When viewing (All) users or a Schedulable User Group, the special unassigned column is always the first column showing where items would be if not assigned to a specific user (i.e. a time and date is set, but not the user).
•The back color for each schedulable user is set in that user's User entry screen "Schedule Back Color" field
If you are have active 9 or more schedulable users, and are viewing them all in the Schedule screen, you will note that the scroll bar at the bottom of the calendar becomes active - so that the width of each schedulable users column on the calendar is still viewable.