AyaNova software is affordable, networkable, scaleable and easy-to-use service management and work order program for Windows that improves productivity and simplifies management and delivery of first class customer service.
And AyaNova is very easy to use.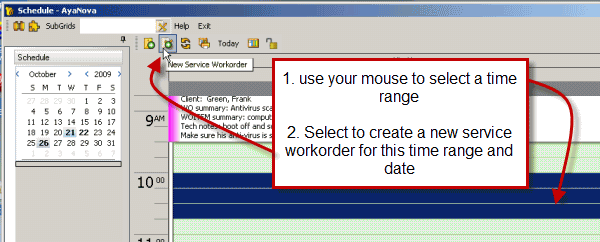 •Walk through the easy steps to schedule a technician and create a workorder at the same time using the Schedule screen - check out the How do I schedule user for a new workorder item via the Schedule screen?
•See how easy it is to create a workorder for client that you will provide service for - check out the Tips & Tricks section Creating a new workorder for a client
•Follow along with how to edit an existing workorder by selecting it from a grid
•Watch a video about the Schedule screen
•Watch a video about the service workorder entry screen
This AyaNova Help file contains details on all of the features of AyaNova, including step by step tutorial walk through's with screenshots in the How do I...?'s, as well as tips on use in the Tips & Tricks section, as well as specific details on each feature in the Feature Details section