Major grids and screens in AyaNova are accessed via the Navigation Pane.
The AyaNova Navigation Pane is on the left side when you log into AyaNova and the option selected displays on the right.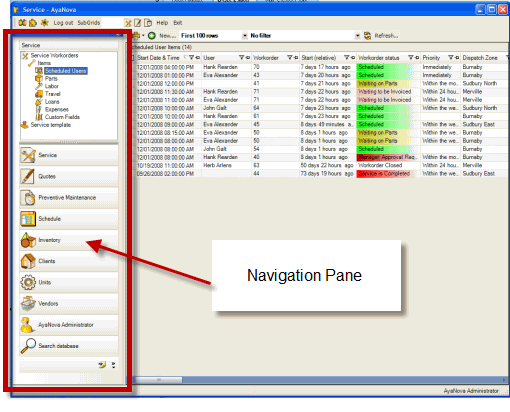 •In the screen shot above, you are viewing the Service navigation pane with the Scheduled Users grid selected
•When you exit out of the AyaNova program, AyaNova will "remember" what you were last viewing, and when you next log into AyaNova, will open to that same view.
This is very useful if as a technician, you mainly view the Schedule screen, it would always open to this screen when you log in. Or if you are a receiver for parts for inventory, it would open to the Purchase Order Receipts screen if that was the last screen you were in when you closed out.
•It is recommended that every person using AyaNova has their own unique username to log in with. If multiple users are using the same username, who ever closed out last will overwrite what screen to open up to the next time that username is logged in.
Easily move to other areas of AyaNova by clicking the option in the Navigation pane. For example, to view the Schedule screen, click on Schedule.