How to add new data into a subgrid table
How to edit an existing row of data
Two ways to delete an existing row of data
How to set an existing row of data to inactive
Some grid tables require selection of a menu option to add new rows of data
When we refer to "subgrids", we mean:
• the subgrids listed under the main AyaNova menu option SubGrids where you access Rates, Dispatch Zones etc.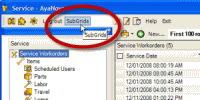 •the subgrids within an entry screen such as the Purchase Order Items in a purchase order entry screen or Scheduled Users subsection of a workorder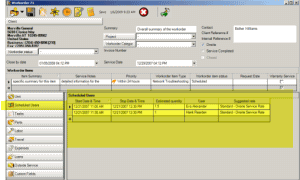 •the subgrid that is accessible from jump buttons within entry screens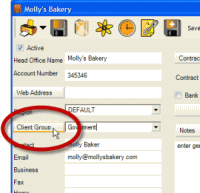 To add new data into a subgrid table:
Click your mouse cursor in any of the columns in the grayed row.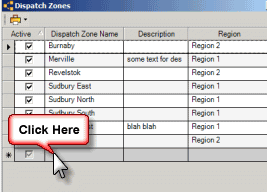 This begins a new row that you can enter data in. You may also note the red exclamation mark which reminds you of required fields – in the screen shot below, Name is a required field so that the Dispatch Zone can be selected within entry screens.

As soon as you begin typing, it does so in a new row.

To edit an existing row of data
just place your mouse in the column field that you want to edit and do so.
Two ways to delete an existing row of data
1. Click on the Delete menu option for that row on the right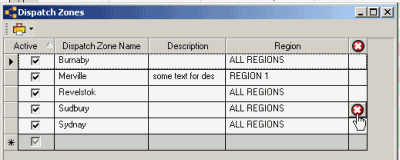 2. Click your mouse on the row header which will highlight the entire row then press the Delete button on your keyboard.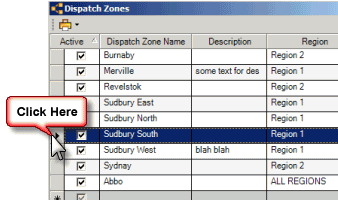 If the row of data has been linked elsewhere in the database, you may not be able to delete that record.
Do note that some grid tables, once a row is entered, cannot be deleted even if it appears to have not yet been selected elsewhere – such as Tax Codes, Part Warehouses. If you do not want this item selected, uncheck the Active field for that item.
To set an existing row of data to inactive
Just uncheck the Active field for that record row, and exit out of the subgrid to save.
The screenshot below shows that the Dispatch Zone Sudbury South is inactive, and as a result will not be displayed in an selection lists elsewhere in AyaNova.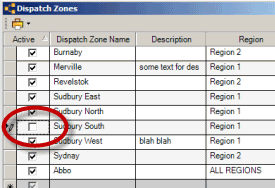 Some grid tables require selection of a menu option to add new rows of data:
For example, the Meter Reading grid table or Banked Service grid table. This is easy to determine by the menu option available at the top of the grid screen.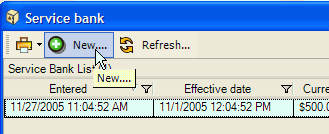 Select the menu option New… to open a new entry screen