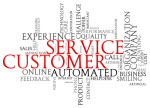 Keep your customers by keeping them informed
66% of customers switch due to poor customer service (Accenture).
Many aspects make up great customer service.
The most basic and easiest to provide, but unfortunately the most overlooked is: keep your customer informed.
We're not talking about documenting every single detail of what service you provided, how you provided, what tools you used. We are just talking about letting your customer know about that which affects the customer!
Here's an example of an incident encountered:
A part was ordered from a company, and we ere given a date when would be delivered by.
The date came and went. No part. And no contact from the company.
Few more days went by. Still no part. Still no contact from the company.
At this point, we assume that the company has forgotten about us and our part.
Yes, we could contact the company and inquire as to whats going on.
But we don't.
Instead we take our business elsewhere.
A customer is 4 times more likely to buy from a competitor if the problem is service related vs. price or product related. (Bain & Co.)
If your customer contacts you (via email/online/voice message), let your customer know you received!
If a change happens to any aspect of what you and your customer have agreed to ( such as a date when a part is expected or when service is to be scheduled) let your customer know!
You worked hard to get your customers. Keep your customers by keeping them informed.
Take advantage of AyaNova's proactive customer service features that will help you keep your customers informed:
AyaNova's Client Notifications
AyaNova's User Notifications
AyaNova's WBI (web browser interface) Client login
When your AyaNova clients requests service via your WBI optional web application (and coming soon to the optional web application RI too!), you and your staff can be automatically notified so there is no delay in responding to the client.
Your AyaNova client can be automatically notified via email when specific events occur, such as when there is a change to the status of workorder whether it be that parts are on order, or that parts have been received.
With the optional add-on RI Client web application and the WBI Client web application, your clients can log in at their convenience to request service, and view the status of those requests, and view the details of their workorders.
Use these effective features of AyaNova to keep your customers informed, to keep your customers happy, to keep your customers!