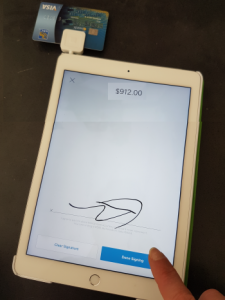 Don't just bill faster …. get paid faster too!
Why are you waiting 30 to 60 days before getting paid?
Take advantage of the many payment processing options now available – with simple, straightforward fees, access to inventory management tools, Point-of-Sale (POS) systems, and so much more!
A mobile device equipped with a credit card reader is extremely practical for any service business whether onsite at the clients location or providing additional payment options at your own location.
We have listed a few of the common payment processing options available – you are very welcome to check this out, as well as search online for more.
Each payment processing company provides their own credit card reader – connected either through a standard headjack or through Bluetooth. Some charge, some provide at no charge.
Each payment processing company has their own fees, and may or may not charge additional fees for refunds, bill splitting, etc. It would be highly recommended to be made aware of all fees before signing up to ensure no surprises.
As with any product, we encourage performing due diligence and further research of these companies by directly contacting them. This ensures you receive pricing quotes specific to your business, as the processing costs you're quoted may vary from the pricing we received when reviewing.