Task Groups group tasks together so that you can easily select a group of tasks for a workorder item without having to type it out. This saves having to type out for every workorder common tasks that occur for service.
How to access the Task Group entry screen:
Access Task Groups from the service workorder item sub-grid Task Group jump button

The individual Tasks in a Task Group
Individual selectable tasks are listed in the column on the left – the "selectable tasks" grid. Do note that inactive tasks will continue to display here.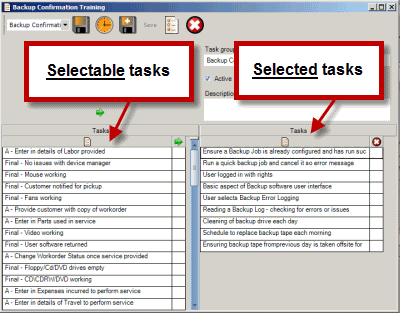 Tasks that are selected for the Task Group display on the right side – in the "selected tasks" grid. Again, even if an individual task is set to inactive, it will continue to display here.
Individual tasks can be placed within the Task Group by clicking within the arrow column for that task

which "moves" them into the Task List on the right. The order that the Tasks are listed here will be the order that the Tasks display within a service workorder item.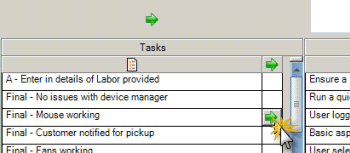 Remove an individual task from the Task Group by selecting the delete image


Selectable tasks are created by selecting the Tasks toolbar button from the menu bar. As an individual task may be part of many different Task Groups, the individual tasks are all created in the same grid so they can be re-selected without having to re-enter.

This opens up the Task entry grid where you can create individual tasks. As with any subgrid, click within the gray record to begin entering a new task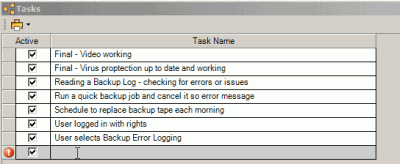 Note on Active column: setting a task to inactive means only that this task will not be added to a workorder via a Task Group even if selected in a Task Group.
Only if a task is deleted from this Tasks grid does the task no longer display as selectable in the Task Group entry screen left grid (the "selectable tasks" grid)