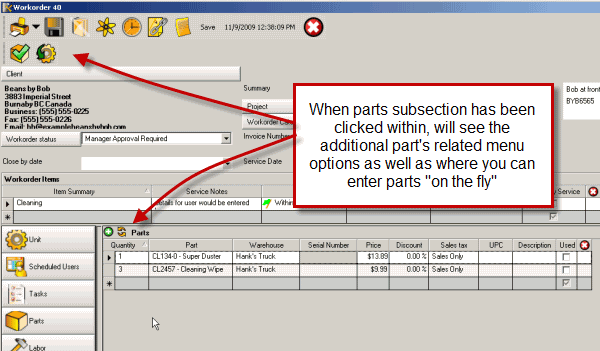 There are three additional Parts menu options:
1. At the top of the Parts subsection grid itself are menu options for adding parts and refreshing the list from within the workorder entry screen

See also:
Part entry on the fly in a workorder
2. and 3. If Parts sub-section of a workorder item is selected two menu options display:

Set All Parts to Used
Selecting this will set all parts in the Parts grid to "Used". Only when Parts are set to Used in service are they taken out of inventory. You should remove the parts listed that were not used in service before completing service and closing the service workorder.
This is a time-saving feature so you do not need to go and click on Used for every part, which is useful if the dispatcher had identified all the parts that were to be used that the scheduled user took onsite for service, and now that service has been entered, they can quickly identify that all parts were used so that the workorder can be closed.

Generate Unit from Selected Part
Select the specific part record and then select this menu option which will open up the Unit entry screen with details from the part record pre-entered for you to save time.
The Client name from the workorder is placed in the Client name in the Unit entry screen
The Service Date from the workorder is entered as the Purchased Date in the Unit entry screen
The Serial Number from the part in the workorder is entered as the Serial Number in the Unit entry screen
•If no serial number, then AyaNova will enter todays date and time as a placeholder in the Serial Number field for you to edit as needed.
The Part Name from the part is entered in the Description field in the Unit entry screen