With AyaNova, you can import report templates that others have made. For example, you might want to download and import a sample report template from the AyaNova Support Forum's Additional Sample Report Templates & Tutorials
1.To import a report template, select the menu option Import Template from the Report Templates grid in the Administration navigation pane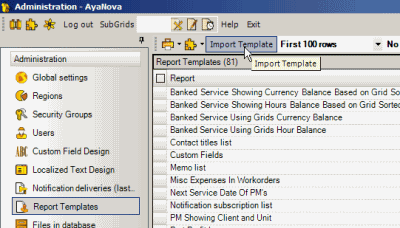 2.Move / browse to the location of the exported file that you wish to import
3.Select the exported file you wish to import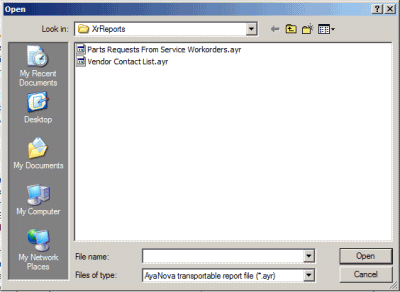 4.Select Open. AyaNova will read the exported report template file and import it into the AyaNova database so that it automatically becomes available in the Print location for its dataset.
5.If you encounter the message "Select report can not be imported: There is already a report with the same internal ID value in your database", this is because as it says, the report template already exists in your database. The report template that is already in your database may or may not have the same name, but it has the same internal ID so AyaNova won't allow you to import and overwrite the existing.
What you need to do is identify the existing report template and delete it before you can import your report template.