AyaNova does not decide how to display currency symbols or how many digits are shown in currency, or what format of Date or Time to use.
AyaNova instead "asks" your computer's operating system, Windows, what to use immediately before the AyaNova program opens and displays exactly as Windows "tells" it to.
If the currency symbol and format, or your Date or Time are not displaying how you want them to in the AyaNova program the change needs to be made in your Windows Control Panel's Regional Settings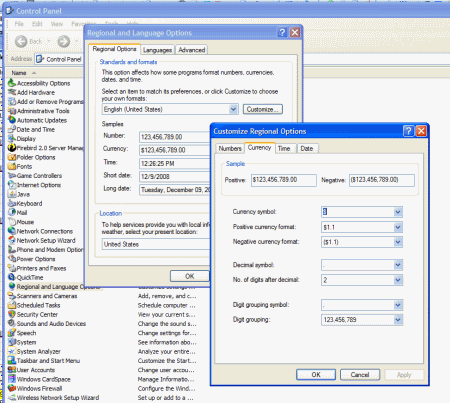 If the currency symbol, or date or time is displaying incorrectly in a report, it may be due to your Windows Control Panel setting – check first – or it may be that the symbol is preset in the report template, and you just need to customize the setting in the report template for that specific data field in that report template. Refer also to the AyaNova Support Forum section on report templates.
NOTE: Your Regional Settings for Time should include seconds so that you can select specific date/time when filtering on such columns as the Service Date in a workorder, the Labor's Service Start Date & Time, a PO's Ordered Date, a PO Receipt's Received Date, etc
•Certain date fields are automatically pre-entered for you when you perform something.
•For example - when you create a new service workorder, the Service Date defaults to today's date and time (including seconds); or when you place a PO on order, the Ordered Date is automatically taken from today's date and time (including seconds); or when you receive parts from a PO, the Received Date is automatically taken from today's data and time (including seconds)
•Because the date and time are stored internally in the database including seconds, for you to be able to select a specific date/time to filter by, you must be showing the seconds so that the filter results include the specific record date.
•Otherwise, if you do not have seconds displaying, your filter results may show nothing.