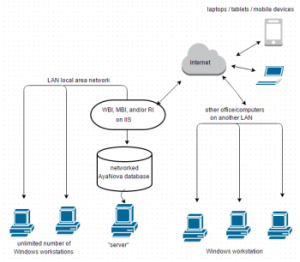 The MBI web application is installed on a computer running IIS (Microsoft Internet Information Server) 5 or higher within your local area network. This computer could be also where your AyaNova database is networked from too.
IIS is used as a "bridge" to provide pre-formatted web pages to the remote user's web browser transferring data called from the AyaNova database to display on the users web page, and receiving data entered by the user via their web page.
The remote user just needs a web browser, an Internet connection, the URL of your MBI login (your external IP address and port number for the remote access web server), and a valid AyaNova remote username and password for your database.
We provide step by step instructions - no special computer knowledge needed.
Or you may be interested in contacting HaveABtye.com for a hosted turn key solution