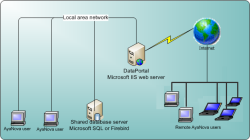 The Data Portal web application is installed on a computer running IIS (Microsoft Internet Information Server) 5 or higher within your local area network.
This computer where installed to, could be your AyaNova database is networked from or it could be a separate computer within your network as per the image above.
IIS is used as a "bridge" transferring data called from the AyaNova networked database to display in the user's desktop AyaNova program user interface.